RC full form – What is the full form of RC?
Full form of RC – Registration Certificate
RC is a document by which you can show the ownership in front of any RTO or other officer. VRC ( Vehicle Registration Certificate) is a document where the details about the vehicle and the owner of the vehicle.
When RTO wants to check then you need to show the Registration Certificate and other relevant documents like pollution certificate, insurance certificate if you want to get out of penalizing. If your document is near to expire so firstly renew this document before expires otherwise you will be stuck somewhere else.
If you have a vehicle and you drive on the road so you will definitely be aware of road rules and information all about the relevant documents and the value of each document which very important for you.
RC full form in the bike is a registration of your bike or two-wheeler. Another safety and very useful guideline for always wearing a helmet that is safe to drive and also protect from being penalized.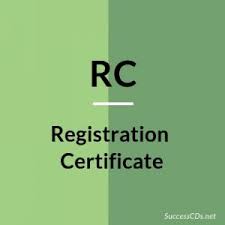 List of data in Registration Certificate given below-
1. Registration Number:-  This is a unique no. which is present on RC and that show in which RTO this vehicle is registered
2. Registration Date:- This is the on which a vehicle is registered in the department.
3. Owner Name:- This gives the name of the owner of the vehicle and what is the address of the owner.
4. Engine No.:-  This the unique number for every vehicle that is very important to identify the vehicle.
5. Chassis No.:-  This is the whole structure of a vehicle on which all the components are hanged and each chassis has its own unique number that is printed on the chassis somewhere else.
6. Fuel Type:- This is the type of fuel like Diesel, Petrol or CNG. Fule is either single or double in a single-vehicle.
7. Valid up to:- A vehicle has its own expiry date on which it will be not able to go on the road its life totally depends on the circle of normal 15 years.
8. Maker and Model:- In maker it is basically the manufacturer of that vehicle and the model is basically a manufacturing year.
9. Insurance:- It is the insurance of a vehicle which is a compulsory document and which is very beneficial for the owner because its cover some accident of driver as well as some damages of the vehicle. There is a basic amount of vehicle that is defined at the time of insurance and this amount is refunded by the insurer when the vehicle is lost.
10. Pollution:- A certificate that is made by the pollution department to control the pollution created by vehicle and compulsory for every vehicle. Now pollution is done online by pollution centres.
So above all the information is in RC ( Registration Certificate) which is printed on paper but now this is printed on plastic so now people also called it a Registration Card (RC).
When you lost your RC then go to RTO Office and get a duplicate Registration Certificate by paying fees. Now we are able to see the registration details on the Imprivata app by using our smartphone.
The government is now giving permission to hold documents to Digi locker for not taking physical cards at each time and at the time of checking this an approved document for RTO. This is a govt. approved digital locker where we are able to put our documents for further uses.
RC ka full form, RC full form in Hindi – पंजीकरन प्रमानपत्र (Registration Certificate)
Always follow the road rules – Alway be safe for yourself and others.